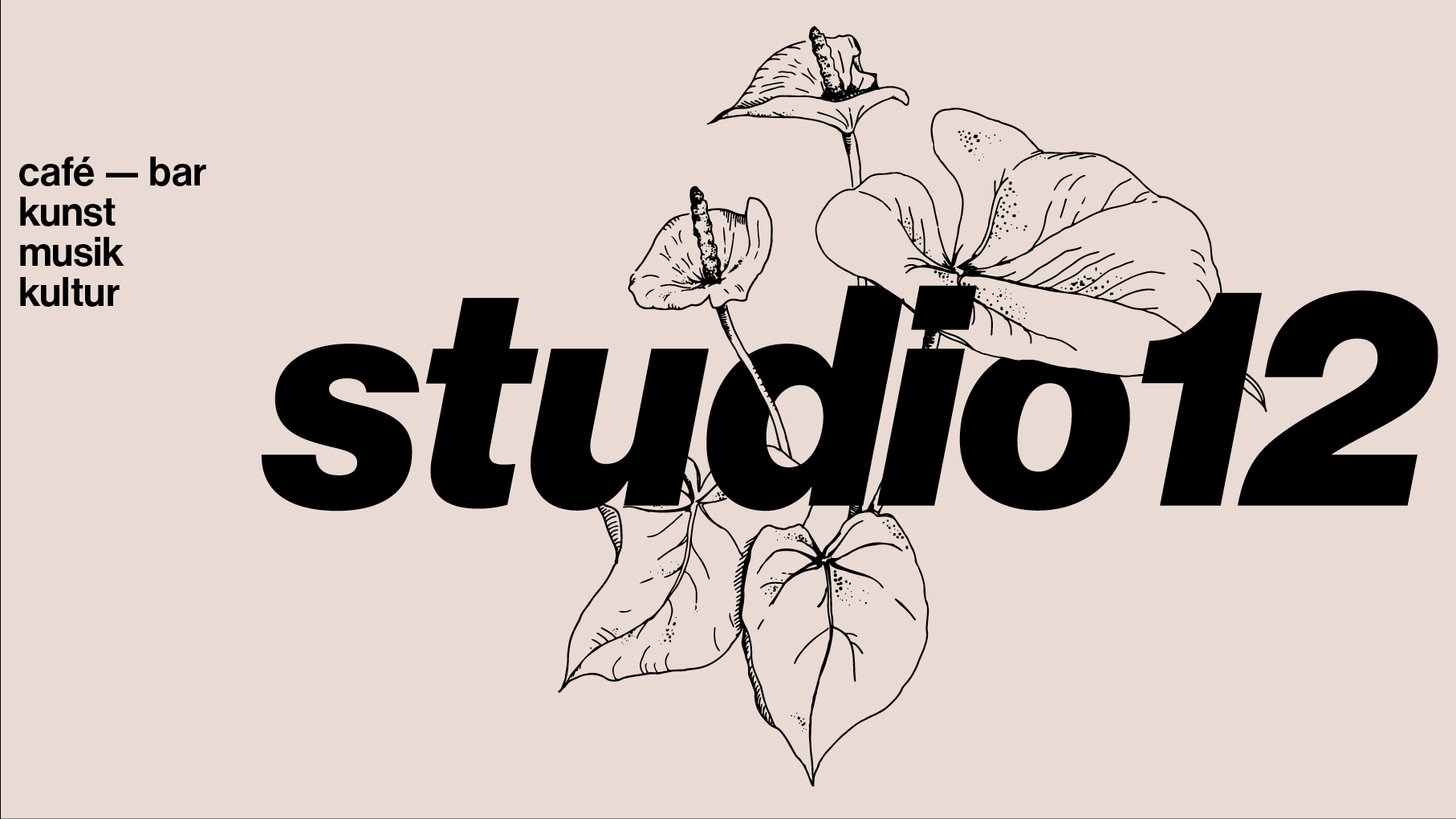 studio12
Neighborhood Café and Bar + Creative and Social Environment.
Gottfried-Schäffer-Str. 12, 94032 Passau, Deutschland
die studio12 café bar
ist ein freier und offener Raum für alle, in dem wir Musik machen, Kunst zeigen, Bücher lesen, Schach spielen, trinken, essen, uns treffen und unterhalten.
Auf unserem Wochenprogramm (https://studio12.world/de/program/program-de) findest du Live-Musikevents, literarische Nächte, DJs und Musikauswahlen, die die Atmosphäre unterstreichen. Wir haben auch tagsüber geöffnet und servieren feinsten Kaffee und Tee, feine Aperitifs am Nachmittag und Spirituosen die ganze Nacht hindurch.
Die Café-Bar existiert an der Schnittstelle von Alltag und Kunst. Es ist ein Ort, an dem sich Menschen treffen, Entspannung suchen, das Leben genießen und Erinnerungen teilen.

der spirit
ist neugierig, aufgeschlossen und respektvoll.
Du kannst uns gerne für allgemeine Anfragen, Kooperationen oder Beratungsleistungen kontaktieren. Vor allem aber laden wir junge Talente ein, mit uns in Kontakt zu treten. Wir sind immer offen für ein kurzes Gespräch :-)

ganz viel Liebe,
Adrian und Finn
Speisekarte
kaffee&co

(13 Produkte)
erfrischendes

(4 Produkte)
bier

(6 Produkte)
spritz

(9 Produkte)
longdrinks

(9 Produkte)
Öffnungszeiten
Montag:

Dienstag:

Mittwoch:

Donnerstag:

Freitag:

Samstag:

Sonntag:
Kontakt
studio12
Gottfried-Schäffer-Str. 12
94032 Passau
Google Maps
Impressum
Pursuant to Section 5 German Telemedia Act (TMG)
studio24 UG (haftungsbeschränkt)
Gottfried-Schäffer-Str. 12
94032 Passau
Germany

Commercial register: HRB 10972
Register court: Passau District Court

Represented by:
Adrian Tadic (CEO)
Finn Kirberg (CEO)

Contact
studio24.passau@gmail.com

VAT/ sales tax ID number pursuant to Section 27a German Sales Tax Act:
DE 328 889 856

Competent supervisory authority:
Regulatory Office Passau
Vornholzstraße 40
94036 Passau
Germany

DISCLAIMER

EU DISPUTE SETTLEMENT
The European Commission provides a platform for online dispute resolution (ODR): https://ec.europa.eu/consumers/odr. Our email address can be found at the top of the Legal Notice.
We are not willing or obliged to participate in dispute resolution proceedings in front of a consumer arbitration board.

LIMITATION OF LIABILITY FOR INTERNAL CONTENT
The content of our website has been compiled with meticulous care and to the best of our knowledge. However, we cannot assume any liability for the up-to-dateness, completeness or accuracy of any of the pages.
Pursuant to Section 7, para. 1 of the German Telemedia Act (TMG) we as service providers are liable for our own content on these pages in accordance with general legislation. However, pursuant to Sections 8 to 10 TMG we as service providers are not under any obligation to monitor external information provided or stored on our website. Once we have become aware of a specific infringement of the law we will immediately remove the content in question. Any liability concerning this matter can only be assumed from the point in time at which we become aware of the infringement.

LIMITATION OF LIABILITY FOR EXTERNAL LINKS
Our website contains links to the websites of third parties ("external links"). Since the content of these websites is beyond our control, we cannot assume any liability for such external content. In all cases, the provider of information on the linked websites is liable for the content and accuracy of the information provided. No infringements of the law were discernible at the point in time when the links were placed. We will immediately remove the link in question as soon as we become aware of an infringement of the law.

COPYRIGHT
The content and works published on this website are governed by German copyright law. Any duplication, processing, distribution or any form of utilization beyond the scope of copyright law shall require the prior written consent of the author or authors in question.